An initiative influenced by, among others pandemic-COVID-19, was "Gazeta.pl's declaration for new times". Gazeta.pl, as the first medium in Poland, in the face of the health, economic, political and climate crises intensifying in 2020, published a declaration committing itself to supporting its readers in accessing reliable information obtained at the source and addressing directly to experts: doctors, economists and other specialists who cooperate with the portal.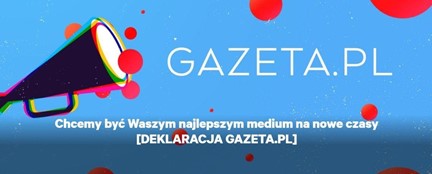 In addition to the promise to prepare reliable and proven news, in 2020 Gazeta.pl described current problems and was involved in important social issues. An example of the activities carried out is, among others the "Let's help Beirut together!" collection initiated by the portal after the August explosion in Beirut. Thanks to the support of Internet users, the portal managed to collect the amount of PLN 100,000. PLN and give it to the Polish Center for International Aid, which provided aid to the victims. Since the outbreak of the pandemic, the editors of the portal have also been involved in helping people suffering from COVID-19, e.g. in April, together with readers, they funded a respirator for a hospital in Sucha Beskidzka.
On January 1, 2021, the "Gazeta.pl 2021 editorial declaration" was published, in which the editors undertook to focus especially on the defense of women's rights and the fight against social inequalities, as well as to act for environmental protection.