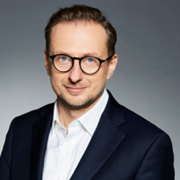 Ladies and Gentlemens,
the COVID-19 pandemic has changed the world we knew and presented new challenges for each of us. In Agora, it deprived us overnight of significant revenues and made it impossible to further implement the strategy adopted for 2018-2022.
The turbulent year 2020 has focused our attention on ensuring the safety of our employees and supporting our media users, customers and business partners. In addition to the struggle related to the economic and social consequences of the coronavirus pandemic, last year was filled with activities aimed to prevent progressing climate change, protect human rights and freedom of speech, which we have been consistently implementing in numerous projects and partnerships for over 30 years.
Today, we all hope that we are slowly entering the "new normality". There are still many unknowns ahead of us, but also clear signposts for Agora. Those include the European Green Deal, the Paris Agreement on environmental protection, and especially the UN Sustainable Development Goals, particularly in the field of gender equality and respect for human rights.
Therefore, in 2021, as in 2020, we want to act in accordance with the principle "Responsible every day – for the sake of society and the environment", as expressed in this "The Responsibility Report for the year 2020 Agora Group and Agora S.A.".
I believe that this publication will allow you to get to know our business even better, especially in terms of ESG (Environmental, Social, Governance) factors, i.e. in the field of environmental protection, social involvement and relations with the environment, as well as the quality of management and business ethics.
On behalf of the entire team of Agora Group, I wish you good and inspiring reading.
Bartosz Hojka
President of the Management Board of Agora S.A.